Free Animation Digital Clock screen saver for your phone.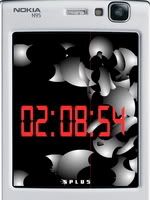 Compatible Phones
Nokia 3250 ,Nokia 6110 Navigator, Nokia 6120 , Nokia E50, Nokia E60, Nokia E65, Nokia E70, Nokia 5700, Nokia 5500, Nokia N73, Nokia N71 , Nokia N77, Nokia N80, Nokia N91, Nokia N93i, Nokia N95, Nokia N76, Nokia N81
Cool Stuff
Syntrax v1.09
Syntrax Symbian Software by Klaar Mobile Syntrax is the modern musician wants when away from the studio! A sequencer, sound synthesis and sample editor all wrapped up in a nice little package!
OpMan
OpMan by Ximplify create your own logos from images stored in your phone and Quickly preview your creation on the phone Effortlessly save and load your creation
Security Genius For S60 3rd
Security Genius Symbian Software By SymbianOn Ltd It can protect a mobile user from losing his/her phone just in case the phone is lost.For example, if a user has lost his /her phone and someone has picked up the phone. …
Download
Free DigiClock Screen Saver For Symbian 3rd by splus
.