Making an Internet call with the Nokia Symbian is as easy as making a regular voice call, only the call is carried through wireless LAN, saving money and conserving cellular airtime minutes in the process. The VoIP framework, based on the SIP-protocol, is integrated into the Nokia user interface, so downloading the GIZMO VoIP settings is simple.
Furthermore, the open S60 platform on the Nokia N80 Internet Edition is optimized for downloading compatible third party Internet call applications.
Experience the first fully integrated VoIP solution for a Nokia phone. Enabled access to Gizmo VoIP on a Nokia phone is the very latest in mobile Internet calling. Get connected and start making mobile Internet calls today.
Cool Stuff
Reuters News For Symbian 3rd
Reuters News For Symbian is a flashlite application for nokia symbian s60v3 devices.Reuters provides full, up-to-the minute stories on the latest news and business developments
SpeedDial Plus 1.0
SpeedDial+ Software allows to program number button combinations of the keyboard to perform different actions on the mobile. Version 1.0 SpeedDial+ is compatible with Series 60.3/60.5 Symbian smartphones, Symbian OS 9.1, 9.2, 9.3.
WeFi for S60 3rd/5th Edition
WeFi is mobile application for symbian 3rd and 5th edition. It automatically detects and qualifies all Wi-Fi access points within range and connects you to the spot with the best Internet connection.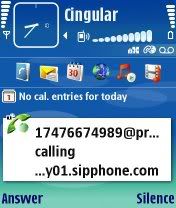 Features
Simple Install and setup with a phone optimized Quick Start
Ultra cheap calls to landlines and mobile phones
Web based Account Management optimized for the phone
Call forwarding and free voicemail
Supported Devices:
Nokia E61i, Nokia E65, Nokia N80 and Nokia N95
Download
Gizmo VOIP