IP Call application application is used to make IP Call on Symbian 3rd edition. As such, it saves costs. The usage of the application software depends on the provision of the operators. A user may make manually add some prefixes and affixes in the contacts in the S60 "Contacts" in order to make IP calls, however, it is not very convenient to send SMS messages since the numbers have been changed! Moreover, for making a domestic call and an international call, the prefixes and affixed are normally different. In this case, a user has to change according to different contexts.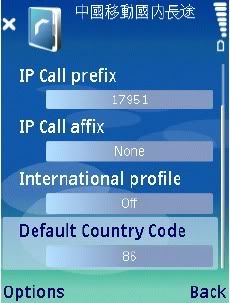 IP Call is such an application to solve this problem. Before using this software, it is good to know that all of the numbers in the S60 "Contacts" can be dialed. For the long distance fixed line call numbers, it is necessary to have the area codes in the "Contacts" although country code may not be necessary. For foreign users, they have to create the profile manually themselves according to the service provider being used!
Cool Stuff
Touch Piano For Nokia 5800
Touch Piano is a virtual piano application for nokia 5800 XpressMusic.this application give you experience of a real sound piano on your mobile phone and special sound effects including piano, organ, violin, flute, guitar, drum etc..
Map Mobile Navigator J2ME + GPS navigation system
Map Mobile Navigator can be started on almost any mobile phone with Java support MIDP-2.0 and CLDC-1.1. Memory heap available to application must be at least 500kb, when less memory is available application tries to start in safe mode when …
Sunios PhotoNova For Symbian S60
PhotoNova functional properties technically put pattern recognition and image processing technologies, thus greatly improving the functional operation of the automation process, hence the requirement for operational process relatively simple cell phone users have a good adaptability.
Compatible Devices
Nokia 3250, 5500, N71, N73, N80, N91, N92, N93, E50, E60, E61, E62, E70
Download
IP Call v2.0 For S60 3rd Edition