IP Call application application is used to make IP Call on Symbian 3rd edition. As such, it saves costs. The usage of the application software depends on the provision of the operators. A user may make manually add some prefixes and affixes in the contacts in the S60 "Contacts" in order to make IP calls, however, it is not very convenient to send SMS messages since the numbers have been changed! Moreover, for making a domestic call and an international call, the prefixes and affixed are normally different. In this case, a user has to change according to different contexts.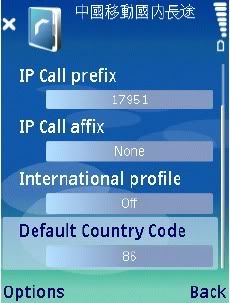 IP Call is such an application to solve this problem. Before using this software, it is good to know that all of the numbers in the S60 "Contacts" can be dialed. For the long distance fixed line call numbers, it is necessary to have the area codes in the "Contacts" although country code may not be necessary. For foreign users, they have to create the profile manually themselves according to the service provider being used!
Cool Stuff
Picodrive v.0.60
PicoDrive is a SEGA MegaDrive and Genesis emulator for Symbian phones.with Portrait full, displaying Genesis full resolution, with the possibility to scroll left/right in the middle of the game
Smart Com v 1.02
Smart Com Symbian Software By Migital Shows Full Screen Picture with Short Information or Full Information with Thumbnail of the Caller, on all Communicating Activities like – SMS, MMS and Calling.
AniSimb 2.0
AniSimb its a freeware app written with Python for S60 by _virtual_machine_ to use animated operator logos.
Compatible Devices
Nokia 3250, 5500, N71, N73, N80, N91, N92, N93, E50, E60, E61, E62, E70
Download
IP Call v2.0 For S60 3rd Edition