KABLOG for J2ME is a photoblogging / moblogging / blogging application for your mobile phone, PDA, or other J2ME-compatible device. Supports posting of images as well as standard HTML blog entries.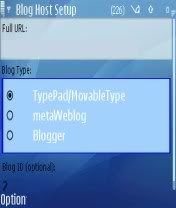 Cool Stuff
FIVN Player v 2.1.1
FIVN Player version 2.1.1 Symbian Freeware By Loc Nguyen FIVN Player uses phone plug-ins to play sound files. Formats that the player tries to check if they can be played are: aac, amr, mp3, mp4, ogg, wav and wma.
JoikuSpot Light Beta Symbian 3rd Edition
JoikuSpot is a free mobile application solution that turns your Symbian phones to WLAN HotSpots.JoikuSpot enables S60 Smartphone to share it's 3G internet connection wirelessly over WLAN with any compatible WLAN device such as laptop, other Smartphone or e.g. Apple …
PicoBrother Translate for S60v5
PicoBrother Translate is free and simple-to-use translator for your symbian phones. Translate words, phrases and even sentences between 45 different languages. this app based Google Translation application for Symbian devices translates a words or section of text into another language.
Download
kablog v2.0.9