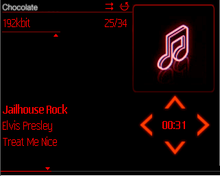 Author: © Sriram Krishnan
Date: 15.12.2007
Version: 1.0
Nokia: No
Installing Skins
First save your skins (kds+kdi) in some folder say "other"
Run KD Player. Go to Menu -> More -> Change Skin -> Open Skin File
Keep clicking on 'Select' until you reach list of kds files in folder "others". Whenever asked for permission, select 'Yes'.
Cool Stuff
4shared For Symbian – Upload and Download Files To And From 4Shared
With 4shared mobile for Symbian you to get access all your data stored on the web anytime, from anywhere. You can upload and download files from your phone directly to you 4shared web account.
VideoRingtone Editor
VideoRingtone Editor Software For PC By SmartphoneWare The freeware application VideoRingtone Editor enables you to create and edit video-ringtones on your PC.
Nokia Magnifier for S60 3rd Edition
Nokia Magnifier is a free application that utilizes the existing camera functionality on your Nokia S60 phone. It can be used to improve readability in life's every-day situations. Reading the "fine print" has never been easier.