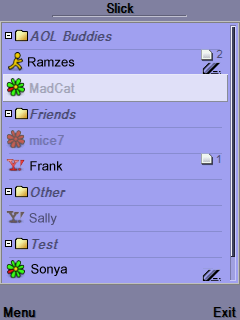 Currently it is still in development, and alpha version is available for free for public testing.
Version: 0.39 bug fix
* Fixed Yahoo add buddy, vibration on SonyEricsson UIQ3 phones, fixed MSN and AIM online buddy detection, fixed ICQ connection problems, fixed Yahoo file transfer
Cool Stuff
Explorer-SP
Explorer SP Symbian Software Bywww.symbianplus.com Freeware phone file explorer with full function. you can copy, paste, rename, delete, properties, show detail of drive space and more.
EasyCalcFree 1.03
This application is a very simple calculator in used your cellphone . Enter a list of up to 10 numbers, add labels. Comes with hyper-intelligence : You can write *,x,/,div,divide,subtract,plus,minus,times,takeaway, or pls,tms,add…you will still get the same result.
RealVista Desktop – Evolution
RealVista Desktop is free FlashLite application that can change your phone style into Windows Vista without changing ANY system files or damaging your phone.
Supported devices:
S60: Nokia 3230, 3620, 3650, 3660, 6260, 6290, 6600, 6620, 6630, 6670, 6680, 6681, 6682, 7610, N-gage, N70, N90
Siemens SX1, Panasonic X700, X800
S60 3rd edition: Nokia E50, E51, E60, E61, E62, E65, E70, E90, N71, N72, N73, N75, N76, N77, N80, N81, N82, N91, N92, N93, N95, 3250, 5500, 5700, 6110, 6120, 6290
Samsung SGH-i520, LG JoY
UIQ: Sony Ericsson P800, P900, P910, Motorola A920, A925, A1000, BenQ P30
Note: please download the file using your download manager.
Download
Lonely Cat Games Slick V0.39