MagicKey beta is a freeware application that allows you can map any key of your phone to work as any other key.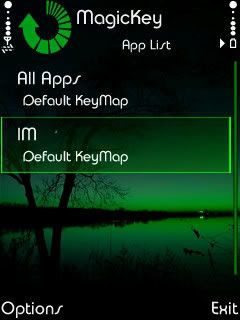 The SIS file is unsigned. You have to use Symbian's Open Signed Online to sign the program.
Cool Stuff
Drummer For Nokia 5800
Drummer is an application virtual drum for nokia 5800 XpressMusic. Drummer Features Enjoy real drum sound effects Pre-loaded songs to inspire you Choose from four funky skins to personalise your drums Download Drummer For Nokia 5800
KeyLocker v 1.03
Are you afraid to forget to lock your keypad? And you don't want your phone to call a friend abroad or start loading WAP or Internet pages? Then you should let KeyLocker do this routine work! It will let you …
Fingertip Access Ultimate SMS v2.7.1 S60 3rd and 5th edition
Keep all your SMS private and safe. Schedule SMS sending at specific time. Customize incoming SMS tone. Filter unwanted SMS. Create template. Send encrypted SMS. Unread SMS reminder. SMS counter.
Download
MagicKey v.1.0 for symbian 3rd