MobiGenie is one of the most valuable utilities for any mobile phone user. With MobiGenie, you can manage your mobile phone world by a lot of integrated features, such as (answer machine, caller locator, SMS auto-reply, caller block,… etc).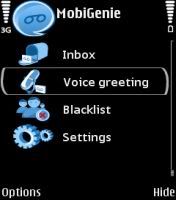 Cool Stuff
Compass Touch for Nokia N97, Samsung i8910 HD (s60v5)
Offscreen Compass Touch is a symbian app for N97 or samsung i8910 HD that can use your mobile phone as a compass.it's built-in magnetometer and GPS provide the following functionality: direction in degrees, traditional compass and longitude/latitude coordinates.
ScreenTaker v 1.01
ScreenTaker version 1.01 Symbian Freeware By Symbianware ScreenTaker is a freeware utility which gives you the possibility to take screenshots on your Nokia Smartphone any time using the defined key combination. The screenshot with the name you assign to it …
Nokia PC Suite 6.86.9.3
Nokia PC Suite is a PC application product that allows you to connect your Nokia phones to a PC and access mobile content as if the device and the PC were one.
MobiGenie presents a number of useful call management functions :
Display caller location.
Auto-reply to the caller via an editable SMS.
Voice answer machine.
Reject undesired numbers.
Tested works to Nokia E65, Nokia N93, Nokia E61, Nokia N95
Download
MobieGenie 1.00 for s60 v3