MobileWish is an application mobile greetings messenger in Adobe Flash Lite , which allows users to send and receive the greetings to almost anyone around the world on their mobile handsets.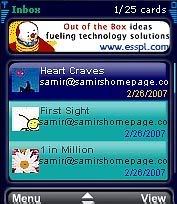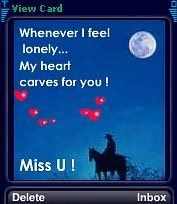 When an user sends a card it is published for the MobileWish client , which the the recipient can use to receive the card on his/her mobile. Apart from this an email link will also be send to the recipient's email so that so that he can also view it through internet browsers on a PC. In addition to this , there will is a Desktop version which is similar to the mobile client, which can used to get in touch with the mobile wish cards on the desktop.
Compatible Phones
MobileWish can run on any device that support Adobe Flash Lite 2 or 2.1 Player.
Nokia 3230, Nokia 6670, Nokia 7610, Nokia 6620, Nokia 6260, Nokia 6630, Nokia 6680, Nokia 6681, Nokia 6682, Nokia N70, Nokia N90, Nokia N95, Nokia N76, Nokia N80, Nokia E 90
Cool Stuff
Handy File V1.5
HandyFile Version: 1.5 By With Handy File application you can browse all drives, files and folders on the phone. It gives you full control over the file system of your Nokia Symbian.
SpotOn v0.06a
SpotOn v0.06a Symbian Freeware By stoeger it GmbH With this application you can turn the device display backlight always on and you can manually turn on/off the camera light. Now you can use your mobile as a tourch 😉
Best vCard v1.00
Best vCard version 1.00 for Symbian Phones by SmartphoneWare Freeware application that provides easy and foolproof import/export of your contacts to vCard files.
If your device does not have the Flash Lite player preinstalled, you can get a copy of Flash Lite Player from adobe site and install it on your mobile.
Download
MobileWish for Symbian Series 60 2nd Edition
MobileWish for Symbian Series 60 3rd Edition handsets