My Messenger is an instant messaging client application allowing you to connect, sign-in and chat with your contacts within the Internet MSN network. You can use it anytime while you are on moving if you have a connection available. After you are signed in, your contacts list is loaded and you can open one or more chat windows with your online buddies and chat with them. The group chat is allowed if more buddies are joined to the current chat session. The application has the core facilities for an instant messaging client as well as featured options.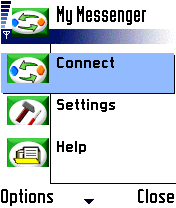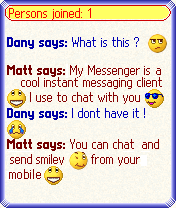 The base options cover the contacts management (add/remove), block/unblock contact, setting your presence status (online, busy, etc…). While you are chatting with your buddies you can use featured options such as sending smiley/emoticons in the chat text or composing text using the predefined text themes. The application is also able to run in background while you are logged in. In this case you can enable the sound notification option for the received messages.
Cool Stuff
Say SMS v 2.05
Say SMS v 2.05 Symbian Freeware By Cmansstudios The SMS sent via this application will be directly displayed over the desktop screen in the remote mobiles than going into the Inbox. The application can be used in environments where the …
AutoProfiles v.3.2 for Symbian 3rd/5th
AutoProfiles schedule automatic profiles change and Bluetooth status change on your mobile. Now the software is fully compatible with mobile phones Series 60.5: Nokia 5800 Xpress Music, Nokia N97. Version 3.2 released on 06.07.2009!
Full screen caller v 3.03
Full screen caller version 3.03 Symbian Software By Smartphoneware Do you want to see a person who is calling you more clearly and in details? Well, use "Full Screen Caller" and your wish will be satisfied! Full Screen Caller allows …
My Messenger uses secure requests to sign in to the MSN network. While you are connected, the sending/receiving of messages are made directly between your mobile and server. All of these ensure your privacy and allows you to have faster chat with your buddies. Due to the direct Internet connection used, your GPRS traffic has a low rate allowing you to have long chat sessions for a low cost. You do not pay per the received/sent message. You are charged by your operator only for the GPRS data traffic which is very low when you use the messenger.
Download
Download My Messenger 1.05