Conversation is a messaging application that allows you to follow your conversations, organized by individual contacts. In addition, the application provides an easy way for replying to messages, and to continue the conversations.
After installation, the application will appear in your device as an application shortcut, and as a new tab in your Contacts application.
Cool Stuff
Kodak Pictures
Make the moment last. Take a great shot with your Nokia imaging phone and get real Kodak prints delivered to your door. The KODAK Mobile Service for your mobile phone and PC makes it easy to store, organize, share, and …
Gameloft Games For Free On Nokia Ovi store
Nokia announcing that they're offering up to 10 free Gameloft games for a limited time on the OVI store – everything from Paris Nights, Asphalt4 , Assassin's Creed, Prince of Persia, Texas Hold'em Poker and many more( All games are …
TiViPhone v0.126
Sillyant TiViPhone v0.126a Symbian S60 By www.tivi.com Internet telephony application and services. SIP softphone dialer, encrypted VoIP over GPRS/3G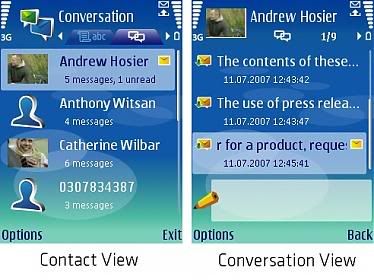 Compatible Devices
tested with Nokia N73 , Nokia N95 and 6290
Works but not fully tested with Nokia E50, E60, E61, E61i, E62, E70, N71, N75, N77, N80, N91, N92, N93, N93i, 5700 XpressMusic, Nokia 6110 Navigator, 6120 classic, 6121 classic, E90 Communicator, N76, N81, N81 8GB, N95 8GB.
Download
Nokia Conversation For Symbian 3rd