Penrillian Packager is the tool used to make application installation SIS files for deployment on target symbian phones.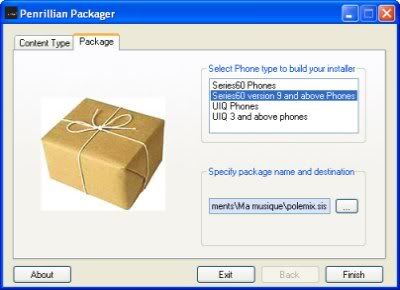 Cool Stuff
Backup Contacts For Symbian S60
Transfer all or some of your contacts (phonebook) with all details intact from your Series 60 device to another Series 60 device via bluetooth (BT) or to a standard vcf file and exchange vcf files between 2 Series 60 devices …
Y-Browser For Nokia 5800 and N97
Y-Browser by Jukka Silvennoinen is a file manager for 3rd and 5th edition S60 mobile phones. with this app you can bring up details for any file, such as system attributes and file dates/times, plus you can mark files for …
TouchComic – Comic Book Reader For S60v5
ComicTouch is a simple but effective CBZ reader.For those who don't know, a CBZ is basically a collection of images stored in a ZIP file for convenience.
It supports Symbian UIQ 3 and UIQ 2, Symbian Series 60 Edition 3 and Series 60 Edition 2. It runs on Microsoft Windows and requires .NET 3.0 Framework; if you get error C0000135 on running the app you need to install this.
Use Penrillian Packager for whatever you will – the applications are limited only by your imagination:
* Create suites of music tracks to install and play.
* Install albums of photos, or videos
* Distribute books written with browser markup (WML, HTML, etc).
This package is free. The application is supplied with no support or warranty either expressed or implied.