Penrillian Packager is the tool used to make application installation SIS files for deployment on target symbian phones.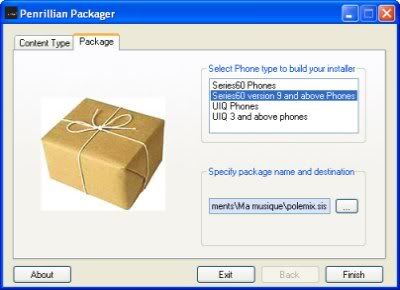 Cool Stuff
E3DG Mobile 3D Animation For Nokia S60
E3DG is a truly mobile 3D animation software, it will not only achieve 3D animation playback, mobile phones can also be converted into three-dimensional pictures of animation, with the beat with the change, users will be able to do three-dimensional …
Screenshot 2.50 Freeware
Screenshot Symbian Freeware by Antony Pranata Screenshot for Symbian OS is a FREE program to take screenshot on your Symbian OS mobile phones (UIQ or S60).
Calendario 1.0.1
Calendario is a mobile Organizer for J2ME phones. The Organizer contains a Calendar, a "Contact Management System" and an appointment-manager.
It supports Symbian UIQ 3 and UIQ 2, Symbian Series 60 Edition 3 and Series 60 Edition 2. It runs on Microsoft Windows and requires .NET 3.0 Framework; if you get error C0000135 on running the app you need to install this.
Use Penrillian Packager for whatever you will – the applications are limited only by your imagination:
* Create suites of music tracks to install and play.
* Install albums of photos, or videos
* Distribute books written with browser markup (WML, HTML, etc).
This package is free. The application is supplied with no support or warranty either expressed or implied.