Philips LifeVibes Camcoder PRO for Nokia 6600/6620 By Philips
The Philips Camcoder PRO is a high quality audio video encoder and player for the Nokia 6600 mobile phone. It provides real-time audio video grabbing and encoding in the MPEG-4/H263 video format as specified by the 3GPP standard. Its PRO mode allows to produce top quality video clips of virtually unlimited duration. It is fully integrated into phone application environments such as MMS, BT, IR and e-mail. The Philips Camcoder also features audio editing to add personal impressions to recorded video clips.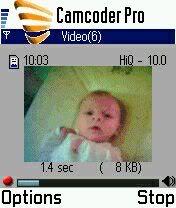 Audio Video Specification:
* Run-time selection of video encoding standard MPEG-4 SP / H.263
* AMR-NB audio grabbing and editing
* Run-time selection of video quality setting : Pro, High, Medium, Low
* Run-time selection of frame rate: 5 fps, 7.5 fps, 10 fps, 15 fps
* Run-time selection of frame size: QCIF, sQCIF
Cool Stuff
Python for S60
Python for S60 is Nokia's port of the Python language to the S60 smartphone platform. In addition to the standard features of the Python language
Touch Card Match Game For Nokia 5800 and Nokia N97
Touch Card is an old classic game for nokia touchscreen like N97 or 5800.This game has a superb audio visual interface with engaging graphics and touch control.