PhotoArt lets you turn your photos into beautiful artworks. Watch in real-time as your photo is re-created in a classic style!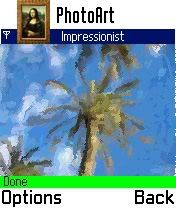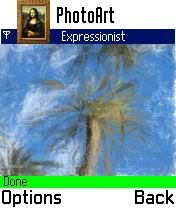 Cool Stuff
VITO Technology AudioNotes v1.25 S60v3 SymbianOS9.1
VITO AudioNotes is the easiest way to record calls on your Nokia phone, voice notes, lectures, interviews, negotiations or anything else you like. Create your personal voice notes just on the go – VITO AudioNotes has everything you need for …
AntiGnat Anti Mosquito
The AntiGnat is a curious Java application that produces imperceptible sounds to the human ear (of 5KHz 25KHz), but that theoretically they would be capable to repel mosquitoes and other types of insects.
Media Safe v 1.1
Media Safe Symbian Software By Nova Epoc Systems Keeps photo/audio/video/note files secure and private on your mobile phone. Protect your important media files!
Features
6 different painting styles – Impressionist, Expressionist, Cubist, Watercolour, Pointilist and Sketch
Different colour options, for even more painting styles
Save the finished work – or send to your friends!
Create small, medium or large images
Free trial
Download
PhotoArt for Series 60 3rd Edition phones
PhotoArt for Series 60 2nd Edition phones