Create masterpieces from your photos with the PhotoArt virtual painter!
Watch in real-time as your photo is re-created in a classic style!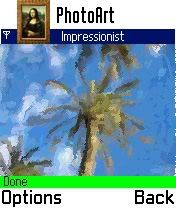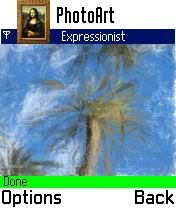 Features PhotoArt :
Cool Stuff
AzanTimes v1.0
Azan Times shows daily prayer times for the selected city or configured locations to use on your java suppported cell phones or devices.
emTube For Symbian 3rd 1.0.4
emTube was written by Sebastian Jedruszkiewicz. emTube is an application allows you to search, download, manage favorites and view videos on YouTube videos or play back a locally stored file.
Core Mp4 Codec
CoreMp4 codec supported Video formats DIVX, DX50, XVID, 3IVX, 3IV2 for Symbian phones with SmartMovie version 3.10 or higher.
6 different painting styles – Impressionist, Expressionist, Cubist, Watercolour, Pointilist and Sketch
Different colour options, for even more painting styles
Save the finished work – or send to your friends!
Create small, medium or large images
Compatible Devices
Nokia 6600 SendoX Siemens SX1
available in the following languages:
English, Maltese, Czech, Finnish, Spanish, Dutch, Polish, Italian, Swedish, German
Download
PhotoArt v1.0.2