Create masterpieces from your photos with the PhotoArt virtual painter!
Watch in real-time as your photo is re-created in a classic style!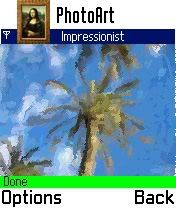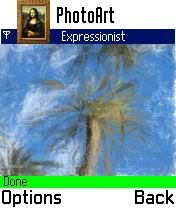 Features PhotoArt :
Cool Stuff
Jiangmin Anti-Virus Beta For Symbian Phones
Jiangmin Anti Virus BETA Symbian Software By Jiangmin Jiangmin Anti-Virus Software for Symbian phone version is designed to provide a safe environment for the operation of mobile equipment users of information security software
BeatEd v1.10.00
BeatEd is a simple drum machine application for Symbian S60 3rd mobile phones. It was originally developed in couple of nights to get a drum machine and metronome application for personal guitar playing purposes.
6 different painting styles – Impressionist, Expressionist, Cubist, Watercolour, Pointilist and Sketch
Different colour options, for even more painting styles
Save the finished work – or send to your friends!
Create small, medium or large images
Compatible Devices
Nokia 6600 SendoX Siemens SX1
available in the following languages:
English, Maltese, Czech, Finnish, Spanish, Dutch, Polish, Italian, Swedish, German
Download
PhotoArt v1.0.2