PhotoFun Software allows making funny photos merging the predefined templates with phone camera. Some templates are present in the application, more templates can be downloaded from our website or made from your own photos.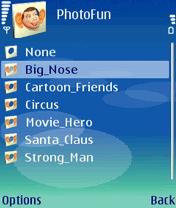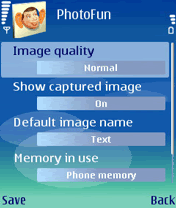 With PhotoFun application you can have funny photos for sending to your friends or just for fun. It is very easy to use PhotoFun: you just make photos with your mobile camera with templates. Funny photos are ready for sending with MMS or sharing via Bluetooth.
With PhotoFun you can:
-Make most beautiful sightseeing photos without leaving your room
-Try yourself in a new image: with another haircut or dress
-Show off with your new limousine or standing in front of your gorgeous villa
-Make sexy, glamorous, shining photos with celebrities and send them to your friends for fun
-Make party or wedding photos using templates, just imagine all the fun you can get!
Cool Stuff
Opera Mini 4.1 Beta
This newest release includes several new features, including automatic completion of web addresses, file upload and download that enables attaching files to web-based email; uploading photos to your blog or other website; downloading attachments from email for storage on your …
Mobiluck v4.01
Mobiluck Symbian Software By MobiLuck MobiLuck into your mobile phone and detect all Bluetooth devices in a 10 to 100 meters range! Communicate with them for free even if they don't have MobiLuck.Send messages for free and meet people with …
Handy Shell for Symbian 3rd Edition
Handy Shell is a powerful replacement of standard Active Standby. It allows you to carry out most common everyday operations quick and handy.
Download
PhotoFun 1.1 for Series 60v3