PhotoJotter is a database program for photographers. You can enter shooting location, subject, date, speed & aperture settings and objective used. Note that this has nothing to do with the integrated camera of Nokia 7650 or 3650 phone.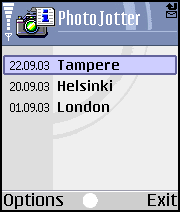 Features PhotoJotter :
Cool Stuff
Nokia Download for Symbian 3rd
This application allows you to download/install, subscribe to, purchase and/or use applications, contents and services to your mobile device provided by Nokia and its affiliates, or third parties.
SYMBTChat v1.41
SYMBTChat Symbian Software By Symot technologies The simplest and most efficient Bluetooth chat application. With SYMBTChat bluetooth chatting is made easy with a fully automated procedure.
Karaoke Gum 1.2
Karaoke Gum Symbian Software By Karapuzzz.com Application karaoke player for S60!
record fields: location, subject, time & date, shutter speed, aperture, objective, comments
create new record just by pressing number key
browse database in view mode
send selected records as plain text file via email, SMS, MMS, IR, Bluetooth
unlimited number of records
installation package has English, Dutch, German and Finnish versions
Download
PhotoJotter v2.0 for Series 60