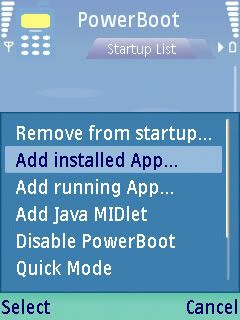 PowerBoot is the solution for people who want to run some certain applications on their cellular phones upon booting up. PowerBoot maintains a startup list of applications and run them when the phone is switched on. Phone users can modify the startup list in PowerBoot. It is just like the Microsoft Windows startup folder on PC.
PowerBoot is designed for advanced mobile phone users. User determines which applications he wants to run and selects them in PowerBoot. The user himself should ensure his selected applications would not cause any problem.
Cool Stuff
AutoLock 1.1 S60 3rd Edition
Autolock Symbian Software By http://fuse.stc.cx/ AutoLock v1.1 is an automatic key lock application for S60 3rd Edition symbian phone.
MobiMonster 2.0
MobiMonster 2.0 is a Mobile application for Symbian Series 60 that allows to access to Worldwide Air, Hotel and Car availability and reservation service, Worldwide weather and currency, Access to flight schedules and flight delay status, Text translation between several …
Visual IT Tube v1.02
Tube Symbian Software By Visual IT Tube our award winning and highly acclaimed guides to the subway systems of the world are now available for the Series 60 Symbian powered phones.
Download
PowerBoot v2.00