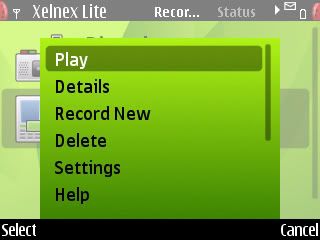 Xelnex Lite is an application for recording all incoming and outgoing calls on your phone without the hassle of pressing a button. Nokia recording software currently has the limitation of a key that need to be pressed in order to activate the recording of the conversation, and also has a 60 second limitation on the length of the call.

Xelnex Lite allows you to automatically (or manually if you choose) record all your outgoing and incoming calls and store them as either as .AMR (Smallest), .MP3 or .WAV files on your phone for easy retrieval. You also have the option of turning off the recording "beep" sound for recording notification.
Cool Stuff
Skyfire 1.0
Skyfire 1.0 is here! You'll want to upgrade today – either launch Skyfire and follow the upgrade link, or go to get.skyfire.com to get 1.0.
Nokia Music Player
Nokia Music Player Symbian Software By Nokia This is a highly anticipated upgrade from the existing player, and probably a must have if you listen to music on your phone often (with the original player).
Smart Settings v 1.14
SmartSettings Symbian Software By MobiFun Soft Smart Settings is designed to protect your phone and make its appearance unique. It combines the possibility to lock the keyboard, prevent from using the phone's 10 digits Master Code in case of lost, …
Features
Switch between manual and automatic recording.
An option of enabling a warning beep for callers to hear that the call is recorded. This however can be turned off at any time.
Choose between .AMR, .MP3 or .WAV files as the recording file format.
Full details of recordings can be viewed which includes; outgoing/incoming call, time and date stamp, caller/recipient's phone number and duration of call.
Switch between phone and memory card for file storage.
Download
Psiloc Xelnex Lite v1.01 For S60v3