QuickMark is a application for barcode readerthat support 7000 characters comparing with others barcode reader that support only 300 characters.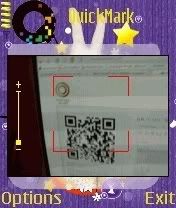 Compatible Devices
Nokia 3250, Nokia 7650, Nokia 6681, Nokia 6630, Nokia 6260, Nokia 3620, Nokia N90, Nokia 7610, Nokia 6680, Nokia 6620, Nokia 3660, Nokia 3600, Nokia N70, Nokia 6682, Nokia 6670, Nokia 6600, Nokia 6600, nokia 3230
Cool Stuff
Easy Reject For Nokia 5800
Easy Reject is a free tool for filtering incoming phone calls and SMS messages on Nokia 5800 XpressMusic Touchscreen mobile device.
Multi Alarm For Symbian 3rd Edition
The high-quality application solution Multi Alarms by German application maker Rock Your Mobile! adds smart and user-defined alarm management to the feature set of modern Nokia S60 3rd Edition Smartphones. Several new functions offer a new dimension of alarm handling.
IQ Barking Phone
IQ Barking Phone is fun application that allows your mobile phone can bark. You can scare your friends with the bark of an evil dog, or you can amuse them with the little dog that tries to be scary.
Download
QuickMark reader freeware