Remote Professional is a remote control software that allows to view and control your mobile phone from your desktop computer in real-time by using your keyboard and PC screen. The essential tool for your personal productivity, application testing and presentations.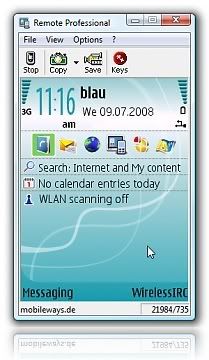 Features
Cool Stuff
Ovi Contacts 1.50.9
Ovi Contacts is a great app for symbian 3rd/5th device that allows you can see where your friends are and what they are doing.
PeerBox For Series 60
PeerBox Mobile is a peer-to-peer file sharing service for your cell phone. With PeerBox, you can share your videos and pictures with the world right from your cell phone. You can also create your own picture profile, send messages to …
FLVPlayer 1.0 For Symbian 3rd
FLVPlayer is a freeware application for playing flash flv video files.you can play Flash Videofiles downloaded from YouTube or any other video sites on your phone.
Connect your phone with the USB cable (compatible S60 3rd Edition, Series 60 v2 and UIQ3 phones only!) or by Bluetooth Serial Port
For (old) Series 60 v1 phones: conveniently connect via the PC Suite / mRouter (Nokia 6600, 3650, N-Gage, Siemens SX1, Sendo X, Panasonic X700/X800)
Support for multiple skins (showing different mobile phone models)
Customizable (HTML) fullscreen mode (with zoom feature)
3 different zoom levels (2x, 3x and 4x)
Use your keyboard to control your phone in realtime
Use your mouse to control your phone in realtime (UIQ 3.0 only!)
Make screenshots, copy them to the clipboard or save them to your PC
Create AVI movies while navigating on your phone
Profiles for quickly switching between different performance settings
Advanced options for balancing performance vs. power consumption: Reduced color modes, different compression levels, application priority, sampling frequency
Multiple devices connected to the same PC by using multiple instances of Remote Professional
Download
Remote Professional 2.92 – Operate your phone from your desktop PC