Remote Professional is a remote control software that allows to view and control your mobile phone from your desktop computer in real-time by using your keyboard and PC screen. The essential tool for your personal productivity, application testing and presentations.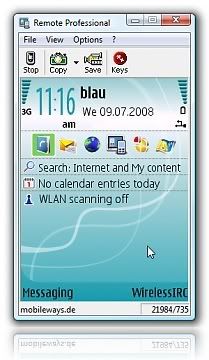 Features
Cool Stuff
SMS Forwarder v2.21 For Series 60
SMS Forwarder by Wireless Labs Technologies can forward incoming short messages to another cellular number automatically. Once there is new short message coming, the application will read its content and then send a new message with the content to another …
aED-Dloader 4.4.5
aED-Dloader allows to download files directly from your mobile phone by providing the download link from Rapidshare, Mediafire, Plunder, 4Shared, or Symbianize.
Connect your phone with the USB cable (compatible S60 3rd Edition, Series 60 v2 and UIQ3 phones only!) or by Bluetooth Serial Port
For (old) Series 60 v1 phones: conveniently connect via the PC Suite / mRouter (Nokia 6600, 3650, N-Gage, Siemens SX1, Sendo X, Panasonic X700/X800)
Support for multiple skins (showing different mobile phone models)
Customizable (HTML) fullscreen mode (with zoom feature)
3 different zoom levels (2x, 3x and 4x)
Use your keyboard to control your phone in realtime
Use your mouse to control your phone in realtime (UIQ 3.0 only!)
Make screenshots, copy them to the clipboard or save them to your PC
Create AVI movies while navigating on your phone
Profiles for quickly switching between different performance settings
Advanced options for balancing performance vs. power consumption: Reduced color modes, different compression levels, application priority, sampling frequency
Multiple devices connected to the same PC by using multiple instances of Remote Professional
Download
Remote Professional 2.92 – Operate your phone from your desktop PC