RoboForm for Symbian devices allows you to synchronize RoboForm Passcards, Identities and Safenotes between your desktop and Symbian device such as Blackberry. You can view synchronized Passcards, Identities and Safenotes on Symbian. Full-featured password generator is included.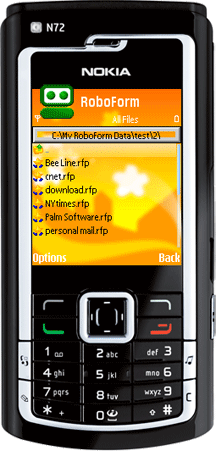 Supported Devices
S60 1st Edition:
Nokia 7650, Nokia 3650, Nokia 3660, Nokia 3620, Nokia 3600,
Siemens SX1, Nokia N-Gage., Nokia N-Gage QD, Sendo X.
Cool Stuff
AutoThemes 1.4 for Symbian 3rd/5th
AutoThemes application for Symbian 3rd and symbian 5th is a cute theme scheduler for your Nokia Smartphone. AutoThemes will change themes for you automatically, according to the active profile or at the exact time chosen.
Skin Editor v 1.05
Skin Editor Symbian Freeware By Symbianware With the help of this aplication you will be able to create and change Skins for the SmartLauncher. It also allows to send and receive skins through email, bluetooth and infrared.
PanoMan v1.2
PanoMan Symbian Software By bit-side GmbH Creating stunning panoramas has never been so fast and easy: the fully automatic stitching-algorithm of PanoMan composes panoramas in realtime and up to 360°!
S60 2nd Edition:
Nokia 3230, Nokia 6260,
Nokia 6600, Nokia 6620, Nokia 6630, Nokia 6670,
Nokia 6680, Nokia 6681, Nokia 6682,
Nokia 7610,
Nokia N70, Nokia N72, Nokia N90,
Samsung SGH-D720, Samsung SGH-D730, Samsung SGH-Z600,
Panasonic X700, Panasonic X800, Lenovo P930.
Series 80:
Nokia 9300, Nokia 9300i, Nokia 9500.
Series 90:Nokia 7710.
S60 3rd Edition:
Nokia 3250, Nokia 5500 Sport, Nokia 6290,
Nokia E50, Nokia E60, Nokia E61, Nokia E62, Nokia E70,
Nokia N71, Nokia N73, Nokia N75, Nokia N80,
Nokia N91, Nokia N92, Nokia N93, Nokia N95,
Samsung SGH-i520, LG JoY.
UIQ:
Sony Ericsson P800, Sony Ericsson P900, Sony Ericsson P910,
Motorola M1000, Motorola A1000, Motorola A925, Motorola A920,
Arima U300, Arima U308, BenQ P30, Nokia 6708.
UIQ3:
Sony Ericsson W950, Sony Ericsson P990, Sony Ericsson M600.
Download
RoboForm for Symbian ver 1.0.0 BETA