Shazam ID is tells you what track is playing simply open the application, press tag now, and hold phone close to speaker, it comes back with song, album and even album art information.
Features
Cool Stuff
Caller Info 1.02
Caller Info 1.02 Symbian Application By http://www.viking.tm Displays additional information about the caller before accepting a call Displays information stored in Contacts (name, company, locations, phone numbers, notes, etc.), you don't need to remember everything about your clients, relatives, friends, …
Best Timer For S60v3
BestTimer is a handy application for setting different kinds of timers. Easy-to-use and intuitive interface, Pizza timers, 'Remind me in' timers, and stopwatch with 3 modes. Your girlfriend says she'll be ready in 2 minutes? Just check it 🙂
SpotOn v0.05
SpotOn v0.05 Symbian Freeware By www.outbank.de S60SpotOn is a small, freeware program which keeps the display backlight tuned on on S60 smartphone. The application also enables you to control the Flash LED on phones that have this feature.
Full-resolution sensitivity – cuts through background noise to sample the tune.
Twice as fast – fingerprint is taken 'on device'.
Can be used even if there's no network connectivity – the sample is stored and can be sent later.
View cover art.
Check and manage your tag list direct from your handset.
Share your tags with friends.
See the latest weekly Tag Charts on your mobile.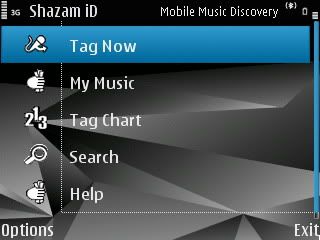 Compatible Phones
Nokia E50 Nokia E60 Nokia E61 Nokia E61i Nokia E62 Nokia E65 Nokia E70 Nokia E90 Nokia N71 Nokia N73 Nokia N75 Nokia N76 Nokia N77 Nokia N80 Nokia N91 Nokia N92 Nokia N93 Nokia N93i Nokia N95
Download
Shazam ID For Symbian 3rd Edition