Sound Monitor is an application can use the phone microphone to monitor sounds and allows using the phone like a decibel meter. A threshold decibel value can be set to trigger an alarm.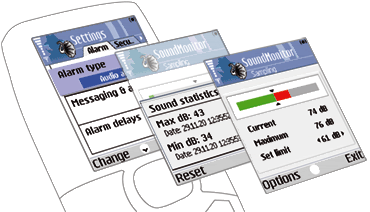 Features
-Audio scan with the device microphone
-Audio detection algorithm with noise level and adjustment
-Activation timing setting
-Alarm types: sound clip, SMS, MMS, phone call (phone line kept open)
-Alarm time delay adjustment and deactivation code
-Remote activation with SMS
Download
soundmonitor v1.02
Cool Stuff
FlashSMS v 1.0
FlashSMS Symbian Software By Symbian Toys First Symbian Series 60 application able to send flash-sms without needing of any additional service. Nothing to configure, just write your sms and select the recipient.
AutoLock 1.1 S60 3rd Edition
Autolock Symbian Software By http://fuse.stc.cx/ AutoLock v1.1 is an automatic key lock application for S60 3rd Edition symbian phone.
StyleTap Platform for Symbian 3rd/5th Edition
StyleTap Platform for symbian version allows to run application or games for the Palm OS platform on Symbian 3rd/5th Edition.
Compatible Phones
Nokia 6260, Nokia 7610, Nokia 6620, Nokia 9210 Communicator, Nokia 6600, Nokia 6670, Nokia Series 60, Nokia 6630, Nokia 6680, Nokia 6681