SplashID v3.32 for Series 60 By www.splashdata.com
Organize and protect all of your user names, passwords, credit cards, PINs, and more. SplashID lets you store everything securely on your smartphone or PDA as well as your PC, so you have access to your critical information at home, at work, or on the go.
Cool Stuff
Fring BETA 2.4
fring is a revolutionary mobile phones application that allows you to talk and chat via your handset's Internet connection (GPRS, 3G or Wi-Fi) to make peer-to-peer VoIP calls, send instant messages and talk with VoIP applications such as Skype, Google …
BTWebCamera v1.0.0
BTWebCamera v1.0.0 S60 3rd SymbianOS 9.1 WebCam computer connected via cell phone with Bluetooth, your camera into the hands of the phone. facilitate your work, the journey for video applications. Support QQ, MSN, NetMeeting and other mainstream video applications.
Orange Dreams – Theme For Nokia 5800 and N97
I love orange, and a Orange Dreams themes for my nokia 5800 is so nice, thanks to sunnylovesalman for your beautiful themes!.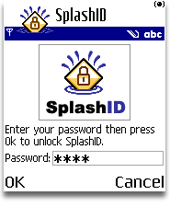 Key Features:
* Best-selling password manager for symbian smartphones, PDAs, and PCs
* Unlimited number of customizable record types and categories for storing all kinds of confidential information (usernames, passwords, bank accounts, credit cards, registrations, insurance, perscriptions, and more)
* Export data from the SplashID desktop for both Windows and Mac OS and import it on the handheld version (no two-way sync at this time)
* Password protection, using 256-bit Blowfish encryption, keeps your data safe and secure
* Automatic password generator – for generating passwords based on user criteria
* Customizable list view supports color and icons
* Share records with other SplashID users
* Custom icon support
* Field masking (for sensitive data like passwords)
* Customizable field labels
* Enhanced security options
* Category support
* Backup and restore feature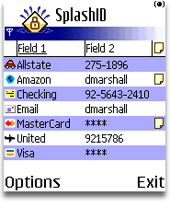 Supported devices:
Nokia 3230, Nokia 3250, Nokia 6670, Samsung SGH-D730, Nokia 3600, Nokia 7650, Nokia 9210 Communicator, Nokia 7610, Nokia 6620, SendoX, Nokia 6680, Nokia 6681, Nokia N-Gage QD, Siemens SX1, Nokia N-Gage, Nokia N-Gage-Cingular, Nokia N-Gage-AT&T, Nokia N-Gage-TMobile, Nokia N70, Nokia 6630, Nokia N80, Nokia N90, Nokia N91, Nokia 3620, Nokia 3660, Nokia 3620-AT&T, Nokia 3620-TMobile, Nokia 3660-Cingular, Nokia 6260, Nokia Series 60, Nokia 3620-Cingular, Nokia 3660-AT&T, Nokia 3660-TMobile, Nokia 3650, Nokia 6682, Nokia 6600, Samsung SGH-D720, Nokia N71 (S60 3rd Edition),Nokia 3250 (S60 3rd Edition),Nokia N73 (S60 3rd Edition),Nokia N91 (S60 3rd Edition),Nokia N92 (S60 3rd Edition),Nokia E60 (S60 3rd Edition),Nokia E61(S60 3rd Edition),Nokia E70 (S60 3rd Edition),Nokia E50 (S60 3rd Edition),Nokia 5500d (S60 3rd Edition),Nokia N93 (S60 3rd Edition),Nokia N80 (S60 3rd Edition),Nokia E62 (S60 3rd Edition)