SPMark™04 Consumer Version By http://www.futuremark.com
With SPMark04 you can test the speed of your Series 60 phone and you can compare it to other S60 models. Benchmarks include 3D tests (comprehensive OpenGL ES 3D test suite to measure graphics performance) and system tests.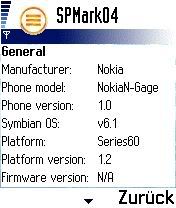 Key Features :
Cool Stuff
Birthday Manager 0.5.2
Excellent application in Java for the complete management of the birthdays.Lets you see what birthdays are comming up in your address book.You can see how old someone will be and home many days till there birthday.You can filter and sort …
Ds Effects DS Ripple v1.0
Ds Effects DS Ripple v1.0 S60 Symbian Freeware This mobile screensaver can show a ripple effect. It includes a configurator that allows to change the image and the parameters.
Nokia Messaging Beta For Nokia E75
Nokia Messaging now offers a desktop-like IM experience on your Nokia device. You can stay in contact with your friends across multiple communities, easily switch between and save conversations and login invisibly.
Free download;
Supports handsets with Symbian 6 and 7 operating systems and Series60 or UIQ user interface;
Comprehensive OpenGL ES 3D test suite to measure graphics performance;
Detailed system information module that reveals phone's technical data