Backup your message to a txt file in your mmc card. And it can help you to delete your message easy. It has strong helper, which can help you to use it easy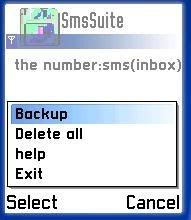 Compatible Devices
Nokia 6260 Nokia 6600 Nokia 6620 Nokia 6630 Nokia 6670 Nokia 6680 Nokia 6681 Nokia 6682Nokia 7610
Nokia 9210 Communicator Nokia N-Gage Nokia N-Gage QD Nokia N70 Nokia N90
Nokia N91 (S60 3rd Edition)

Cool Stuff
Pregtool 1.0
Accurate, profressional pregnancy calculator used by real docters and nurses.
TuneWiki for Java J2ME Mobile Devices
TuneWiki is a social media player app that offers song lyrics synchronized to the music playing on select music-enabled mobile phones in real time.
Active Mail v1.20
Active Mail Symbian Software By Cibenix Active Mail is the ideal companion to the built-in e-mail capabilities of the Nokia Series 60 phone, extending the messaging capabilities of the phone.