Backup your message to a txt file in your mmc card. And it can help you to delete your message easy. It has strong helper, which can help you to use it easy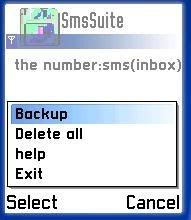 Compatible Devices
Nokia 6260 Nokia 6600 Nokia 6620 Nokia 6630 Nokia 6670 Nokia 6680 Nokia 6681 Nokia 6682Nokia 7610
Nokia 9210 Communicator Nokia N-Gage Nokia N-Gage QD Nokia N70 Nokia N90
Nokia N91 (S60 3rd Edition)

Cool Stuff
RDM+ Remote Desktop
RDM+ Remote Desktop for Mobiles allows you to access and manage remotely your desktop or laptop computer from Java powered phone. You can send and receive emails, surf web, edit documents in word processor, copy, cut, paste files or folders …
X-plore 1.02
X-plore is a file manager for Symbian phones, with wide range of functions on phone's file system.This application is shareware, with friendly price and relaxed registration option.
BTWebCamera v1.0.0
BTWebCamera v1.0.0 S60 3rd SymbianOS 9.1 WebCam computer connected via cell phone with Bluetooth, your camera into the hands of the phone. facilitate your work, the journey for video applications. Support QQ, MSN, NetMeeting and other mainstream video applications.