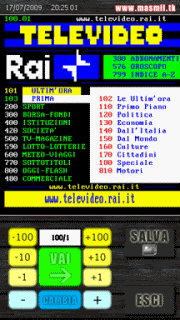 Televideo is symbian app which can view the teletext pages for RAI, national and regional, comfortably on your symbian touch phones such as nokia 5800, N97.
You can download all the above applications to your PC and then transfer them to your mobile and install from it. You can also install them directly using the Nokia PC Suite. If you haven't installed the PC suite yet, use your laptop to transfer the files via Bluetooth and then install the applications from your mobile directly.
Cool Stuff
RoboForm for Symbian ver 1.0.0 BETA
RoboForm for Symbian devices allows you to synchronize RoboForm Passcards, Identities and Safenotes between your desktop and Symbian device such as Blackberry. You can view synchronized Passcards, Identities and Safenotes on Symbian. Full-featured password generator is included.
pvPlayer v04.21.28.01 For S60 SymbianOS.9.1
PacketVideo's Media Player supports streaming, progressive download and playback with support available for all major mobile content types, including video and audio (3gpp, mpeg-4, h.263, AVC, Windows Media, RealMedia, AAC, AAC+, WMA, MP3, AMR, QCELP).
QuietSms 3.00 – Silently Receive Incoming SMS
QuietSms is a symbian app for call rejecting & silent (without any notification) & clean (removes any logs information) SMS receiving and sending on Symbian phones.
Download
Televideo 1.40 (italia lang)