UnlockMe Symbian S60 Freeware By Symbian Toys
UnlockMe! is a application that will allow you to recover the Unlock Code actually configured in your mobile phone.You have to install and run the application on the phone and after some minutes it will communicate you the Unlock Code actually configured in the Phone
This program it's usefull only in these circumstances
– You just bought a 2nd hand mobile but you don't know it's Unlock Code.
– Or, you forgot the Unlock Code because you didn't use that option for a lot of time.
Cool Stuff
PowerMP3 v1.01
MobiFactor PowerMP3 v1.01 Symbian Software for S60 PowerMP3 is a revolutionary application audio/music player for your Nokia Series 60 smartphone. supports MP3, OGG, AAC and M4A formats. with 10-band Equalizer for all kind of music.
Kaspersky Mobile Security
Kaspersky Mobile Security designed to protect mobile platforms with its extensive experience in combating malware, hacker attacks and spam. This product provides reliable protection for your smartphone and your personal data stored on it.
Build.prop Huawei Y538
# begin build properties # autogenerated by buildinfo.sh ro.build.id=HuaweiY538 ro.build.version.sdk=22 ro.build.version.codename=REL ro.build.version.all_codenames=REL ro.build.version.release=5.1.1 ro.build.version.security_patch=2015-12-01 ro.build.version.base_os= ro.build.date=Fri Dec 18 06:39:20 CST 2015 ro.build.date.utc=1450391960 ro.build.type=user ro.build.user=huawei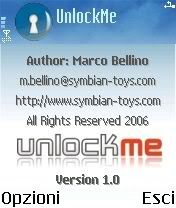 Note:
If you find a mobile phone that during startup asks you to insert the Unlock Code you will never be able to get the code using this program.
Download:
If you find this program usefull, you can sustain the development following this link:Donation
UnlockMe Freeware
Compatible Phones:
Nokia: 3230 / 6260 / 7610 / 6600 / 6620 / 6630 / 6670 / 6680 / 6681 / 6682 / n70 / n90
Panasonic: X700 / X800
Samsung: SGH-D720 / SGH-D730
Lenovo: P930