SmartMap is a mobile device application which uses vector and raster maps. which are perfect for driving or hiking with it. You can also use VITO SmartMap without maps for recording tracks to find your way back. It is compatible with any NMEA protocol GPS receiver (Compact Flash socket, serial port, BlueTooth or sleeve).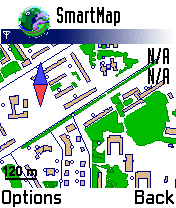 * Compatible with any NMEA protocol Bluetooth GPS receiver
Just turn Bluetooth on, and SmartMap will find the receiver, determine your coordinates and locate you in the world.
VITO SmartMap provides standard accuracy of Global Positioning System: the more GPS sattelites your receiver can find, the more accurately your position will be shown. Best results can be achieved when there are at least 4 sattelites visible in the sky. Such factors as clouds, tall buildings, some obstacles affect the visibility strongly.
Cool Stuff
Mojos PhotoCaller for S60 3rd Edition
PhotoCaller is a fast and easy to use photo-address book for for Nokia S60 3rd Edition.Using PhotoCaller you can call and edit your contacts by selecting the photos and pressing the joystick.
Best MessageStorer for Symbian 3rd
Best MessageStorer lets you easily and conveniently save your SMS, MMS, emails in a text or CSV file.Best MessageStorer has an intuitive user interface made in conformity with the concept of user interface for S60 3rd edition. Best MessageStorer looks …
Nokia PC Phone
The Nokia PC Phone is a service that gives you a possibility to use your Nokia mobile phone with your PC Web Browser. You can call, text and manage contacts from your phone. You can also see incoming text messages …
* Quickly displays and zooms vector VITO Maps
The largest map collection for different countries is available at our website. For just $4 you receive a map of a country scaled to 1:1 000 000 with major roads and railroads, forests, airports, cities and towns, rivers, lakes and seas.
Vector maps are very small and are the best choice for using with your cell phone: you can load lots of them to your memory card. Maps should be stored in the /Others/ folder.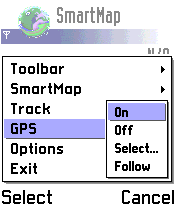 * Displays and records a track of movements
With this feature you can use VITO SmartMap even without maps! Turn on recording the tracks to find later your way back or to create your own map.
* Shows heading, speed, scale, height and compass
With this information you'll never get lost! You can select to display only the data you need.
* Supports pushpins (waypoints) with notes and coordinates
Compatible Phones
Nokia Series 60 phone:
Nokia 3600 Nokia 3620 Nokia 3650 Nokia 3660 Nokia 3620 Nokia 6260 Nokia 6600 Nokia 6620 Nokia 6630 Nokia 7610 Nokia 7650 Nokia N-Gage Nokia N-Gage QD
Download Trial
SmartMap for Nokia Series 60