Voice Inbox is an application that empowers your device with answering machine functionality. Installing Voice Inbox on your device you can rely on your own independent answering machine with local storage of messages left instead of on your operator voice mailbox service.
Features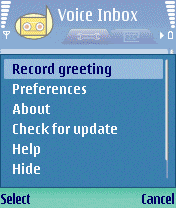 Cool Stuff
Best GSMNavigator for Nokia 5800 XpressMusic
Best GSMNavigator is a useful tool for symbian S60v5 working with GSM cells and GPS position data. It allows assigning various actions to be automatically performed while entering or exiting a specific location: play a sound, change profile, launch an …
Can't remove Application By Psiloc?
If you have been installed the demo version application by Psiloc and then install the cracked edition .so if you try to remove psiloc programs from your phone.and cant remove it.
3D Weather Widget For Symbian Belle
3D Weather Widget created by Dima-zh1 is a beautiful weather widgets wit with detailed forecast covering the whole planet.Widget displays weather forecasts for coming periods, up to a week ahead.
Local log of messages received – messages received are stored on your own device and you can easily (re)play or delete them at any time and place;
Flexibility – you can change greetings very easily and you can also set greeting timeout and length at your own preference;
Tight integration with phonebook contacts – very useful to recognize callers who have left messages;
User-friendly– the application is manageable with just few clicks
Compatible Devices
Nokia 3250 Nokia 5500 Nokia 5700 Nokia 6110 Nokia 6120 Nokia 6121 Nokia 6290 Nokia E50 Nokia E51 Nokia E60 Nokia E61(i) Nokia E62 Nokia E65 Nokia E70 Nokia E90 Nokia N71 Nokia N73 Nokia N77 Nokia N80 Nokia N81 Nokia N82 Nokia N91 Nokia N92 Nokia N93(i) Nokia N95
Download
Voice Inbox v1.03