Voice Inbox is an application that empowers your device with answering machine functionality. Installing Voice Inbox on your device you can rely on your own independent answering machine with local storage of messages left instead of on your operator voice mailbox service.
Features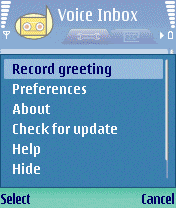 Cool Stuff
Guardian 2.0 BETA
Guardian 2.0 Symbian Software By Marco Bellino The new antitheft system for Symbian Series 60 devices.Every time you switch on your mobile telephone, Guardian proceeds with authentication of the inserted sim card; if authentication fails, Guardian send a notification sms …
Intellisense Infotech ZPlus v1.00 N70 N72 N90 SymbianOS8.1
Let your phone be your best friend and keep all your secrets as secrets as you may provide Z Plus security to it now…
Velakor Astro
Astro is a freeware mobile java application (to use on your mobile device). Its purpose is to display the sunrise and sunset time for a specified location.
Local log of messages received – messages received are stored on your own device and you can easily (re)play or delete them at any time and place;
Flexibility – you can change greetings very easily and you can also set greeting timeout and length at your own preference;
Tight integration with phonebook contacts – very useful to recognize callers who have left messages;
User-friendly– the application is manageable with just few clicks
Compatible Devices
Nokia 3250 Nokia 5500 Nokia 5700 Nokia 6110 Nokia 6120 Nokia 6121 Nokia 6290 Nokia E50 Nokia E51 Nokia E60 Nokia E61(i) Nokia E62 Nokia E65 Nokia E70 Nokia E90 Nokia N71 Nokia N73 Nokia N77 Nokia N80 Nokia N81 Nokia N82 Nokia N91 Nokia N92 Nokia N93(i) Nokia N95
Download
Voice Inbox v1.03