This skin only support for Powermp3 V1.01 by Farhaz Adeeb. If you are a PowerMp3 Player and looking for the best app for your new Skins, This app is the perfect app!. Write in the comments which skins you would like to see and we will add them in the new update!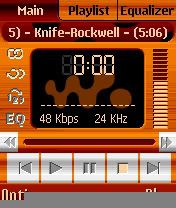 Support:
Nokia 3250, 5500 Sport, E50, E60, E61, E61i, E61, E62,E65, E70, N71, N73, N75, N77, N80, N91, N91 8GB N92, N93, N93i.
Nokia 5700 Xpress Music, 6110 Navigator, 6120 Classic, 6121 Classic, 6124 Classic, 6290, E51, E63, E66, E71, E90 Communicator, N76, N81, N81 8GB, N82, N95, N95 8GB.
Nokia 5320 Xpress Music, 5630 Xpress Music, Nokia 5730 Xpress Music, 6210 Navigator, 6220 Classic, 6650 fold, 6710 Navigator, 6720 Classic, 6730 Classic, 6760 Slide, 6790 Surge, C5-00, E5-00, E52, E55, E71x, E72, E75, N78, N79, N85, N86 8MP, N96, X 5.
Cool Stuff
NDrive for Symbian S60 V3 and V5
NDrive turns your Symbian 3rd/5th edition into a navigation system up to house number accuracy! After a short plug & play installation, turn-by-turn voice instructions and on-screen directions will guide you from your current position to the destination that you …
PocketLock – Auto Locks/Unlocks your Phone
PocketLock which automatically locks/unlocks your phone using the proximity sensor on the front of the phone (useful when putting inside a pocket / taking it out).No more need for the lock button on the phone! PocketLock runs in the background, …
Active Mail v1.20
Active Mail Symbian Software By Cibenix Active Mail is the ideal companion to the built-in e-mail capabilities of the Nokia Series 60 phone, extending the messaging capabilities of the phone.
Download
Walkman Skin For Powermp3