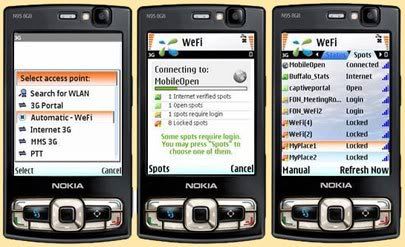 WeFi is mobile application for symbian 3rd and 5th edition. It automatically detects and qualifies all Wi-Fi access points within range and connects you to the spot with the best Internet connection.
Download
WeFi for S60 3rd/5th Edition
Cool Stuff
cClock v1.17 update
Change log: **Warning** Option "Battery and network" will drain more battery power in some model of Nokia phone Please reboot after install. As cClock can't unload the DLL itself. Feature : Translate to Polish, Russian. Bug fix : Further reduce …
Psiloc GSync For Symbian 3rd
Psiloc GSync allows you to automatically archive all your SMS and MMS messages on the Gmail account. The SMS/MMS messages appear as e-mails, are marked as read and labelled as SMS/MMS. Messages exchanged with same people are grouped into threads. …
cCalc V 1.08
cCalc Symbian Freeware By Welic cCalc is a simple calculator that runs on S60 3rd Edition smartphones. It features simple navigation and programmable formulas.