Thanks to Star Fox make this nice skin for ogg Player. Winamp skins for Oggplayer will allow you to feel known winamp on oggplayer. Write in the comments which skins you would like to see and we will add them in the new update!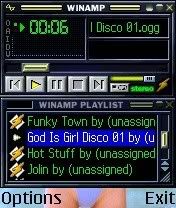 Nokia 3250, 5500 Sport, E50, E60, E61, E61i, E61, E62,E65, E70, N71, N73, N75, N77, N80, N91, N91 8GB N92, N93, N93i. Nokia 5700 Xpress Music, 6110 Navigator, 6120 Classic, 6121 Classic, 6124 Classic, 6290, E51, E63, E66, E71, E90 Communicator, N76, N81, N81 8GB, N82, N95, N95 8GB.
Cool Stuff
MobieGenie 1.00 For Symbian 3rd Edition
MobiGenie is one of the most valuable utilities for any mobile phone user. With MobiGenie, you can manage your mobile phone world by a lot of integrated features, such as (answer machine, caller locator, SMS auto-reply, caller block,… etc).
CallMagic v2.0
Answer incoming calls to your phone automatically and/or listen to what is happening around your phone. Call Magic will enable you to answer incoming calls from a pre-defined number at zero ring, i.e. the phone will answer the call automatically …
FullScreenCaller V 1.0
FullScreenCaller Pro Software for Series 60 Byhttp://www.rock-your-mobile.com Do you want to see all details of the caller on your smartphone's screen? FullScreenCaller Pro allows you to see a big picture of a person when you receive or make a phone …
Download
Skin For OggPlayer
Let us know in the comments area below if you have any issues or question while installing Winamp skin on OggPlayer.