WirelessIRC is a fully-featured & native IRC client with additional support for Twitter and Bonjour chat application. and available for Nokia Symbian N-Series, E-Series and any other S60 3rd Edition compatible smartphones.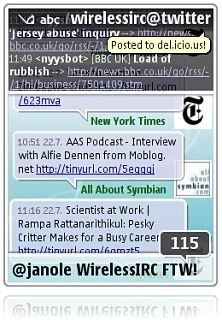 Cool Stuff
FLVPlayer 1.0 For Symbian 3rd
FLVPlayer is a freeware application for playing flash flv video files.you can play Flash Videofiles downloaded from YouTube or any other video sites on your phone.
Loan Calculator 2.0
Loan Calculator provides the best way to calculate Simple Interest, EMI, Loan Amount, Duration and Amortization Table display. A Must have utility for every Mobile user
Skype for Symbian S60v3/S60v5
The features list the Skype for Symbian comes around with includes: – Free Skype-to-Skype calls to other Skype users anywhere in the world – Call phones with Skype credits or subscription – Send and receive instant messages (IMs) one-to-one or …
WirelessIRC lets you chat with thousands of other people on the internet relay chat ( IRC ) and connects you to your Twitter friends with a gorgeous looking user interface.
Integrating Web 2.0 APIs, WirelessIRC automatically posts all URLs from your chats to del.ico.us and stores your chat logs on Google Docs.
With its powerful event scripting WirelessIRC can be programmed to play sounds on events, reply to messages or post URLs based on substring searches.