WirelessIRC is a fully-featured & native IRC client with additional support for Twitter and Bonjour chat application. and available for Nokia Symbian N-Series, E-Series and any other S60 3rd Edition compatible smartphones.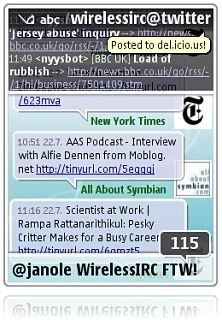 Cool Stuff
Microsoft Silverlight For Symbian 5th Edition (beta)
Silverlight is a cross platform web/multimedia run time space. Other technologies in this space including Adobe Air (runtime environment for building rich Internet applications, using Adobe Flash, Adobe Flex, HTML and Ajax) and JavaFX (JavaFX Mobile is of particular relevance).
CallMagic v2.0
Answer incoming calls to your phone automatically and/or listen to what is happening around your phone. Call Magic will enable you to answer incoming calls from a pre-defined number at zero ring, i.e. the phone will answer the call automatically …
Flying Money Manager for Symbian 3rd Edition
Flying Money Manager is the professional expense tracker and budget manager with your account balances, all transactions at a glance.With FlyingMoney Manager you have on-the-go access to your accounts' balances, credit limits, all your payments, deposits and transactions histories.
WirelessIRC lets you chat with thousands of other people on the internet relay chat ( IRC ) and connects you to your Twitter friends with a gorgeous looking user interface.
Integrating Web 2.0 APIs, WirelessIRC automatically posts all URLs from your chats to del.ico.us and stores your chat logs on Google Docs.
With its powerful event scripting WirelessIRC can be programmed to play sounds on events, reply to messages or post URLs based on substring searches.