WirelessIRC is a fully-featured & native IRC client with additional support for Twitter and Bonjour chat application. and available for Nokia Symbian N-Series, E-Series and any other S60 3rd Edition compatible smartphones.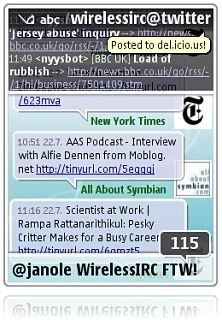 Cool Stuff
Battery Voice For Nokia N95
Battery Voice created by rafaabrantes The application using the accelerometer, when you shake your phone – application "talk" how many points of battery there are still available. The program is in fese of development, but 100% functional, using the accelerometer …
vTap for Symbian 3rd Edition
vTap is a quick and easy web video service that lets you search, browse and pinpoint the exact web video you're looking for—from sources all over the Internet—and play it on the Mobile Phone.
Nokia Configuration Tool 4.0
Nokia Configuration Tool is a PC application that enables you to manage the settings of selected Nokia devices. Your PC and the devices must be connected through Nokia PC Suite and a Universal Serial Bus (USB) cable. Nokia Configuration Tool …
WirelessIRC lets you chat with thousands of other people on the internet relay chat ( IRC ) and connects you to your Twitter friends with a gorgeous looking user interface.
Integrating Web 2.0 APIs, WirelessIRC automatically posts all URLs from your chats to del.ico.us and stores your chat logs on Google Docs.
With its powerful event scripting WirelessIRC can be programmed to play sounds on events, reply to messages or post URLs based on substring searches.