YOYAP! will also animate your live incoming calls with a lip-synced animation of the voice stream with an animated character of your choice.and you can creation of lip-synced animated video messages using your voice input. Send this entertaining video clip to friends via MMS!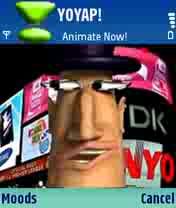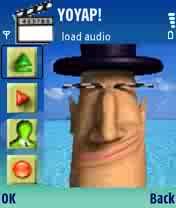 Cool Stuff
AQUARIUM DSS Screensaver 1.3
AQUARIUM DSS Screensaver symbian Software By 3D ARTS LTD Download your very own aquarium to your mobile! A screensaver application created with real-time 3D-graphics.
Tramontana ClockSaver 1.0 S60
Our screen saver shows the time in large digits or on a large dial, easy to read even without the background lighting. It also displays the date, the day of the week, the selected profile, and it uses icons to …
Best Torch For Symbian 3rd Edition
Have you forgot a torch? Or you haven't thought about it at all and suddenly found yourself in some dark place? Best Torch will easily cope with this problem!
Also, animate LIVE calls on your mobile! Callers will appear as a live, animated, lip-synched cartoon character! Plenty of animated faces to choose from. See below for more about Characters.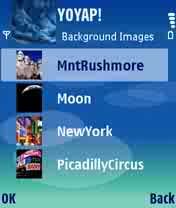 Compatible Cellphones:
Nokia 3250 Nokia N76 Nokia 5700 Nokia N77 Nokia 6110 Navigator Nokia N80 Nokia 6120 Classic Nokia N92 Nokia 6121 Classic Nokia N93 Nokia 6290 Nokia N93i Nokia E62 Nokia N95 Nokia E90
Nokia N71 Nokia N73 Nokia N75
Samsung i520 Samsung SGH-i400 LG Joy
Download
YOYAP! – Animated Video Messaging and Live Caller Animation! S60 3rd