YOYAP! will also animate your live incoming calls with a lip-synced animation of the voice stream with an animated character of your choice.and you can creation of lip-synced animated video messages using your voice input. Send this entertaining video clip to friends via MMS!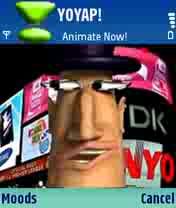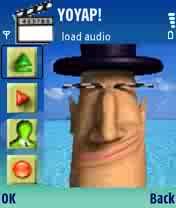 Cool Stuff
cClock v1.11 For Symbian 3rd
cClock is freeware, written by Chua Welic cClock is a screen saver that run on Nokia phone S60 3rd edition.It feature big font and prevent deep power saver mode on Nokia 6120 classic and Nokia 6110.
Squace v0.3.0
Squace is a program to surf the Internet in your mobile phone. With only a few clicks, you can reach your favorite sites, RSS feeds, and mobile user generated content.
Advanced Battery Saver for Symbian S60 3rd and 5th Edition
Advanced Battery Saver is a symbian app that can configures the power-consumption of various phone functions, services and applications to ensure up to 30% longer battery life when you need it most.
Also, animate LIVE calls on your mobile! Callers will appear as a live, animated, lip-synched cartoon character! Plenty of animated faces to choose from. See below for more about Characters.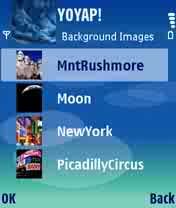 Compatible Cellphones:
Nokia 3250 Nokia N76 Nokia 5700 Nokia N77 Nokia 6110 Navigator Nokia N80 Nokia 6120 Classic Nokia N92 Nokia 6121 Classic Nokia N93 Nokia 6290 Nokia N93i Nokia E62 Nokia N95 Nokia E90
Nokia N71 Nokia N73 Nokia N75
Samsung i520 Samsung SGH-i400 LG Joy
Download
YOYAP! – Animated Video Messaging and Live Caller Animation! S60 3rd