The Unyverse Mobile is a software application that you install on your mobile phone and which enables you to access all your information ,news or reference content like Wikipedia to your indispensable personal or company data, Unyverse makes it easy to exchange and share information between your mobile phone and your web account.
Features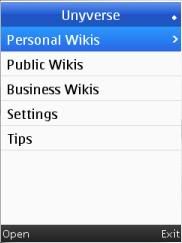 Access Wikipedia on your mobile phone Imagine having the entire knowledge of the largest collaborative encyclopedia in the world at your fingertips, anytime, anywhere. Just type in any word on your mobile and download instantly the entire Wikipedia article specially formatted for your mobile device. You can also bookmark any article to a create a list of favorites in your account.
Join or create a Wiki group Join a community of people who share your passions and stay in touch when you're on-the-go by connecting to your group from your mobile phone. You can also start your own wiki group and invite your friends to become members and contribute.
Read RSS News Sitting in another useless meeting? Just pick up your phone and start reading the latest news feeds on the spot. With the Unyverse RSS News wiki, you can add your favorite RSS feeds from your web account and download them instantly on your mobile. You can also bookmark any interesting article to your list of favorites.

Contacts Manage your contacts from your web browser and get them automatically on your phone. Type in some contact information in your mobile when you meet someone, and it is automatically uploaded to your web account. With the Contacts wiki, your contacts are always in sync between your mobile and your web account.
Notebooks Send a quick note from your desktop to your mobile. Type in some information you want to remember in your mobile and retrieve the note later on from your web account. With the Notebooks wiki, you can store and classify your notes by creating personal notebooks, and access all your notes on-the-go.
System Requirements:
MIDP 2.0 phone
150KB JAR size
Supported phones:
Nokia, Samsung, Motorola, LG, Sony Ericsson
Download
Unyverse Mobile Wiki