It is an optical code reader that uses mobile phones/devices to add any electronic information or system to printed products. With the application it is possible to integrate all businesses, and all forms of eCommerce, with print media. UpCode provides access to text, picture, video clips, games and animations. Additionally all product information and specific interests such as gambling, sports, entertainment, timetables, ticketing services and translations etc. can be delivered direct to mobile.
Using the UpCode program:
Open the program from the menu.
Make sure that nothing is covering the camera.
Point the camera at the UpCode code, until the program automatically takes a picture of the code.
If an empty field is opened instead of the camera type in the number of the code and choose "go". (This means that your phone has no camera or the manufacturer has not provided any camera access for the model in question)
If the mobile asks for connection answer yes or choose an access point.
When scanning the code you can zoom in on the code by using the arrow keys; up and down
From the program menu you can adjust also ROI size, contrast and brightness.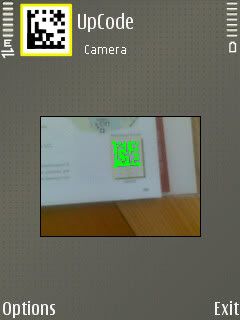 Download
UpCode Reader For Series 60