VITO AudioNotes is the easiest way to record calls on your Nokia phone, voice notes, lectures, interviews, negotiations or anything else you like. Create your personal voice notes just on the go – VITO AudioNotes has everything you need for this. With this application you will never lose yourself in heaps of recording formats wondering which is better. A student, a businessman or a housewife – no matter what you do – with AudioNotes you don't need to be computer savvy.
VITO AudioNotes is quick and intuitive. Store your important information as voice notes. Record your phone logs for further reference. Replace handwriting by recording lectures directly to your Nokia phone. With VITO AudioNotes you can record virtually anything effortlessly!
Managing Personnel – with a click of a button, you will be able to record important meetings and phone calls (for Smartphone users) for future review. You won't need to write anything on paper again!
Housewives – shopping lists, cooking recipes, time of important TV program and "to-do" list for the day- all this you can keep as voice notes with VITO AudioNotes instead of hundreds of stickers on the fridge.
Secretary – with quick and easy one-button access to VITO AudioNotes, you may throw away yellow stickers and notes; just consider sending an mp3 file of a recorded phone call with important information to your boss.
Lawyers – you will never forget your client's case details, meeting minutes and of course the time of dinner with your wife. Advise this program to your client and maybe one day you'll find yourself in a situation, when a recorded phone call made with VITO AudioNotes is the key evidence to win the case.
Students – tired of reading lecture notes in preparation for exams? With VITO AudioNotes you can record lectures on-the-go and listen them when you have time. Have your friend missed a lecture? Help him by sending an mp3-recording.
Journalists – if your job is about collecting information and writing about events, don't waste your time and paper on short notes- use VITO AudioNotes on a press-conference or during an interview, record your commentary and easily compile an article.
VITO AudioNotes offers special features while recording: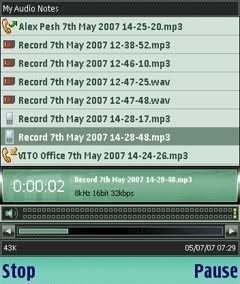 * increase microphone sensitivity with automatic gain control
* avoid silence gaps with VAS (Voice Activation System)
* watch the file size growing while recording
Recorded notes are easily managed:
* move them between main memory and storage card
* perform basic operations like play, rename, delete
* view properties
* sort by name or date
VITO AudioNotes is the easiest way to save important information on the go:
* record phone calls
* record notes in MP3 and WAV formats
* store recordings to storage card or phone memory
* append recording to the same file after stop
* auto record phone calls
Compatible Devices
LG Joy
Samsung SGH i520
Nokia N80 Nokia N92 Nokia N93 Nokia N93i Nokia 3250 Nokia 5500 Nokia 6290 Nokia E50 Nokia E60 Nokia E61 Nokia E62 Nokia E70 Nokia N71 Nokia N73 Nokia N75 Nokia N76
Download
VITO Technology AudioNotes v1.25 S60v3