WirelessIRC is a fully-featured & native IRC client with additional support for Twitter and Bonjour chat application. and available for Nokia Symbian N-Series, E-Series and any other S60 3rd Edition compatible smartphones.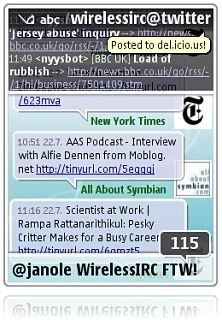 WirelessIRC lets you chat with thousands of other people on the internet relay chat ( IRC ) and connects you to your Twitter friends with a gorgeous looking user interface.
Integrating Web 2.0 APIs, WirelessIRC automatically posts all URLs from your chats to del.ico.us and stores your chat logs on Google Docs.
With its powerful event scripting WirelessIRC can be programmed to play sounds on events, reply to messages or post URLs based on substring searches.