Yellow FTP Symbian Software By Yellow Computing
You can upload and download any kind of pictures or files from your Nokia directly to any FTP-Server. This can be used to publish photos immediately on your Website, to transfer files into your companies headquarter
Features: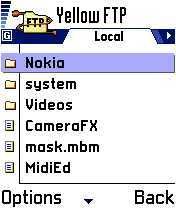 Send and receive files via FTP-protocol
Storing Server & Login profiles
Supports HSCSD and GPRS connections for the data transfer
Creating, Renaming and deleting files and folders
Supports active and passive FTP modes
Anonymous Login
The application is written in C++ for the Symbian OS. It runs very fast and has a English user interface.