What's New in version 1.3:
– Removes tiny bitmap font
– Adds medium bitmap font
– Improves authentication (login timeout issue)
– Some minor optimizations (GUI and threads)
– Status is shown next to YahooID (press 7 to show/hide them)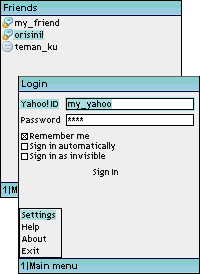 YMTiny by Yusuf Arief Rahmanto is a free J2ME Yahoo Messenger. Directly connects to the Yahoo's server. Specially designed for small screen device.Just connect with your Yahoo! ID, no other registration needed.
Features
– Settable message alerts: sound (midi), vibrate, flash backlight, open IM window
– Bitmap fonts for consistent GUI
– "Smart Ping" maintains connection and minimizes bandwidth usage
– Receives offline messages, new mail and typing notifications
– Set status and custom status
– View a friend's status, show and hide offline friends
– Send and receive BUZZ!!!
– Run in background and auto-restore
– Window and scroll animations
– Stylus support
– 54+2 Emoticons!
– Data counter
Download
YMTiny v1.3 – Free J2ME Yahoo Messenger