The YouTube for Mobile is a simple application to watch YouTube videos on your phone . You can search for videos and upload your own straight to YouTube using a free, downloadable application designed specifically for mobile devices.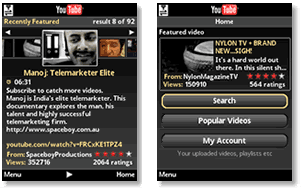 Features
Access the latest, the best and the most viewed videos.
Search and watch any YouTube video.
Watch your subscriptions, playlists and favorite videos any time.
Upload videos directly from your mobile phone.
Compatible Devices
Nokia N73, E65, N95, 6120c, 6110n and Sony Ericsson's k800i and w880i.
Download
YouTube for Mobile 1.0.6 beta