View maps from Google Maps, Yahoo Maps, MSN Virtual Earth, Ask.com, Open Street Map and other sources. use GPS to locate you and your friends, search for addresses and get directions, view subway maps, traffic information, map mashups and more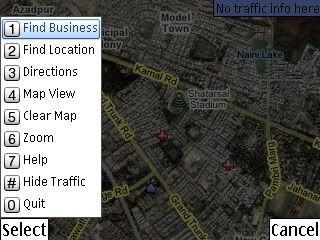 Updated features in this version:
SMS features: you can now send a place (favorite, search result, GPS position…) over SMS to a friend that has Mobile GMaps/ installed. When such a message is received, MGMaps centers on that point and adds it as a favorite (configurable in Settings/SMS).
An updated Blackberry version with support for stored maps is available. Currently works only on 8xxx series, for older BB handsets use the version of MGMaps with Navizon without stored maps support.
Configuration service for enabling/disabling NAC input in search and Go-to forms.
Added more key shortcuts for phones will full keyboards, key shortcut for Center on GPS only displayed if a GPS fix is available.
While zooming, the application now stays centered on the last point it was moved to.
Bug fixes for View KML, View Friends, alert timeouts, favorites, GPS functionality on Motorola E1000 and others.
Download
Mobile GMaps