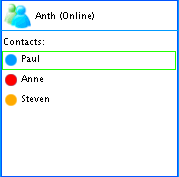 Finally a super fast version of Windows Live Messenger also commonly referred to as MSN Messenger has arrived on Mobiles. Talk to your friends when you want where you want. It comes with everything you need to talk to your friends on your mobile.
Features
Easy to use interface.
High Quality message sounds.
Appear as offline or any other status when initially signing on.
Low WAP data usage.
Very Fast.
Download
Q-MSN v2.0