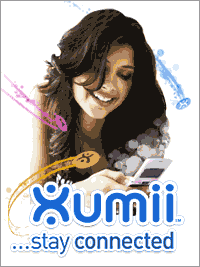 Xumii allows you to stay connected with all your friends right on your phone. See the latest status from your friends on Facebook, MySpace and imeem and find out the latest gossip from the entertainment world. Chat with your friends on AIM, Yahoo!, MSN Live or GoogleTalk. If you want to invite a few friends to join a private chat you can create your own group. Everyone gets a mobile Wall where you and your friends can post messages, photos and gifts.
Features
IM with all your friends on AIM, Yahoo!, MSN Live or GoogleTalk from one place, Xumii
See the latest status updates from all your Facebook and IM friends
Let everyone know what you are doing with a single status update to Xumii
View, post and share photos from your mobile phone with Xumii
Post fun messages and widgets to your Xumii mobile wall for all your friends to see
Create groups when you just want to chat and share things in private
If you want, call your friends right from Xumii
Get the latest news delivered by Xumii
Just create an account on your phone at http://m.xumii.com or on our website, download our free application and you are ready to go.